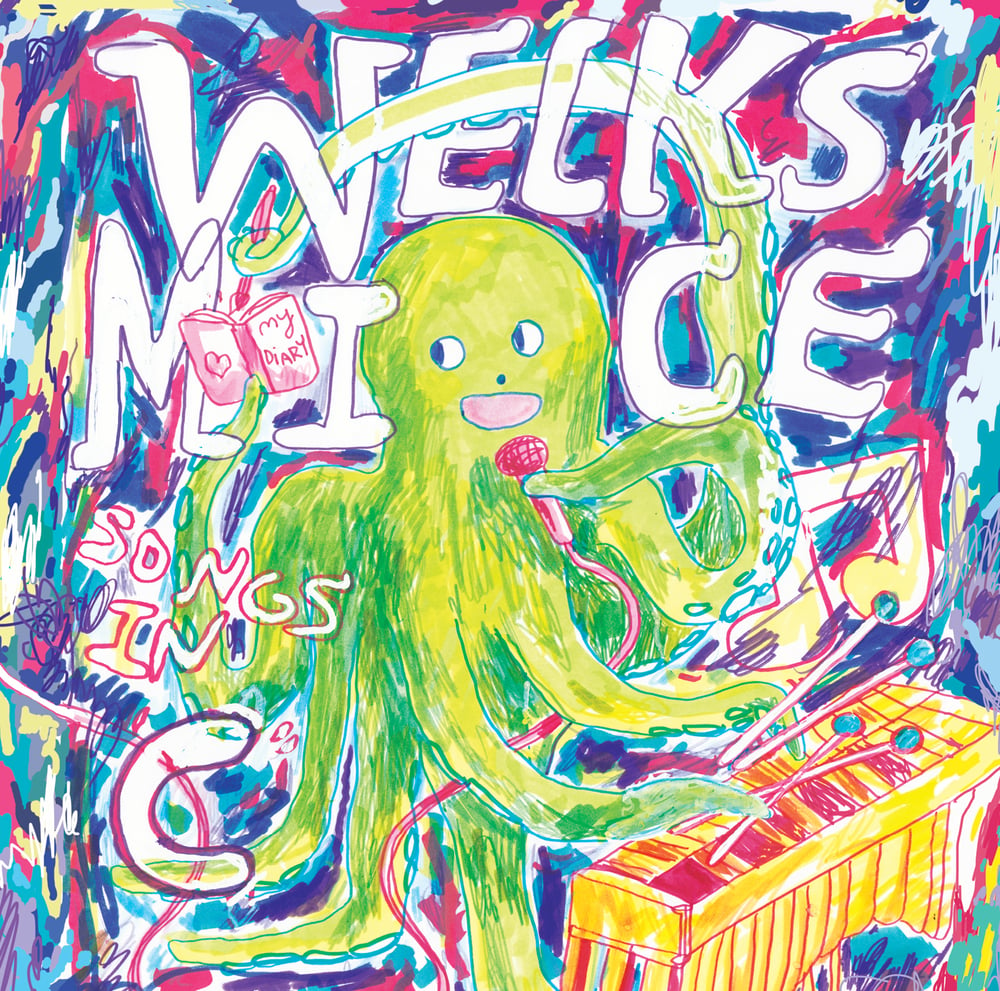 WELKS MICE Songs In C LP/CD/CASS
by Welks Mice
$

12.00
---
---
*THIS IS A PRE-ORDER SHOULD SHIP MID-NOVEMBER* Debut 12 song full length available on 12" vinyl LP, CD, and Cassette.
Get ready for Welks Mice! Buffalo, New York's premier vibraphone and vocal pop duo whose poignant lyrics and stark lo-fi arrangements are as charming as they are jarringly askew. Vocalist and songwriter, Max Weiss, croons in a modest tenor delivering loaded lyrics on topics ranging all the way from Won-Ton potstickers in the lighthearted "Won Ton Song", to social anxiety in pretty much every other number. Meanwhile, Andre Welks provides athletically rhythmic accompaniment on the bells like a hard-hitting adult music box, sometimes aided by booming synth bass and found sound effects. The result is a totally fresh take on bedroom pop that will engage the active listener.
Since forming in 2015, Welks Mice has shared the stage with staple songwriters of the DIY scene such as Jeffrey Lewis and Calvin Johnson, wowing audiences in Buffalo, Canada, and New England alike with a sincere approach to performing that prompted one reviewer to dub the pair "true soldiers of love and good vibrations." Recordings of the band, however, have been in short supply, other than an extremely limited run of one-of-a-kind cassingles that were each recorded individually and sold on tour, in the tradition of iconoclastic artists like Daniel Johnston. Fall of 2018 will see the release of the band's first official album, the highly anticipated 12-song LP, Songs In C, on Buffalo's One Percent Press.
Home-recorded to 4-track cassette on Buffalo's West Side, and mastered to two-inch analogue tape at San Francisco's Hyde Street Studios, Songs In C is an daringly ambitious work that attempts to cover an expanse of musical terrain using only a few precious elements. It is an eclectic record with a plenty for fans of the weird, the catchy, and the candid to unpack, with lyrical nods to 70s songwriting influences like Sparks and Billy Joel, and arrangements that somehow at once call to mind both twee folk and minimal dance music. Welks Mice is a band that is willing to take huge risks in their songwriting and arrangements, and in this case, it pays off immensely. Songs In C will be released October 12, followed by a 30 day U.S. tour.
Pop's not dead!
You can stream and download the album via bandcamp.